By CAPP, original French article: READ HERE
What is Wyylde?
Wyylde is a porn-prostitution site. It presents itself as a libertine site, connecting and organizing meetings and evenings between "practitioners".
After some research, we discovered that Wyylde is the official competitor of Jacquie et Michel, a French porn "company" accused of aggravated pimping, aggravated human trafficking, torture and barbarity.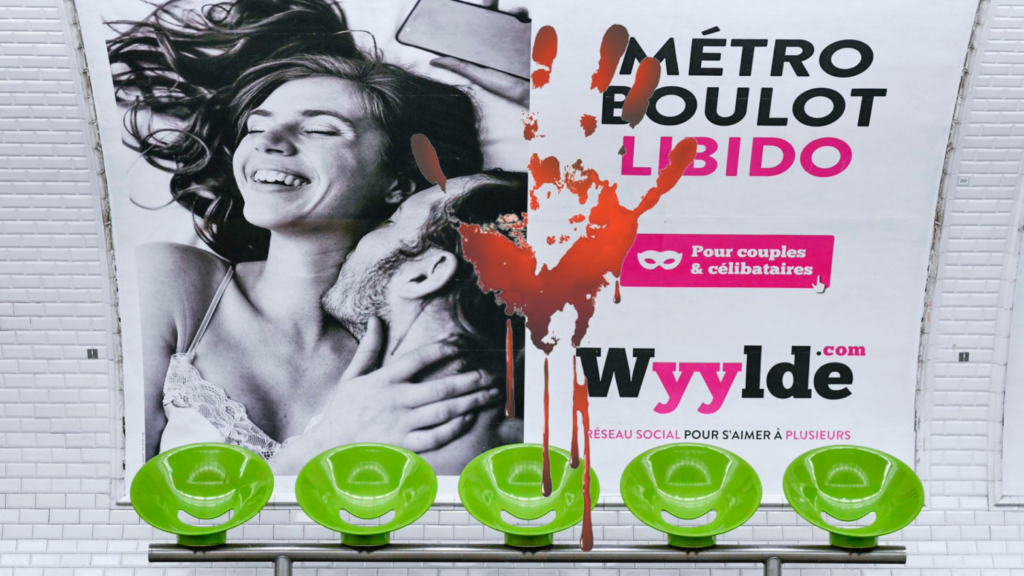 Libertine? No way. If you listen to the survivors of porn-prostitution, you will learn that libertine sites and circles are a gateway to prostitution networks. Many survivors attest to having started out this way.
We will return another day to a feminist critique of licentiousness. You can always read our posts on BDSM and polyamory.
After lifting the veil on the alleged "sexual freedom" promoted by Wyylde, we discovered that this site, formerly Netechangisme, is an instrument of pimping, serving as a platform for women victims of prostitution – just like Onlyfans can be. And besides, why this change of name? An effective marketing strategy, intended to erase the term "swapping", very marked because of the many scandals linked to pimping and the sexual exploitation of women. What could be better than choosing a new English name to seduce an ever younger audience and transform a specialized practice, whose abuses and dangers are well established, into a so-called mainstream, acceptable, fun fantasy, " wild". Harmless and Freed, Wyylde? Don't be fooled by their new branding. The protection of women and minors is not ensured on this platform: according to several testimonies, no moderation of the profiles or the site seems to be in place.
The more we investigate, the more we discover cases of procuring minors. Among the many alerts, one case, involving a magistrate recently brought to justice, was the subject of extensive media coverage: read for example the articles of Mediapart , Le Monde , or France Info . And Wyylde is not limited to a presence on the internet and social networks. In 2022, the site launched a massive advertising campaign in newspapers but also in the public space, with large posters in the street, on bus shelters and in the metro.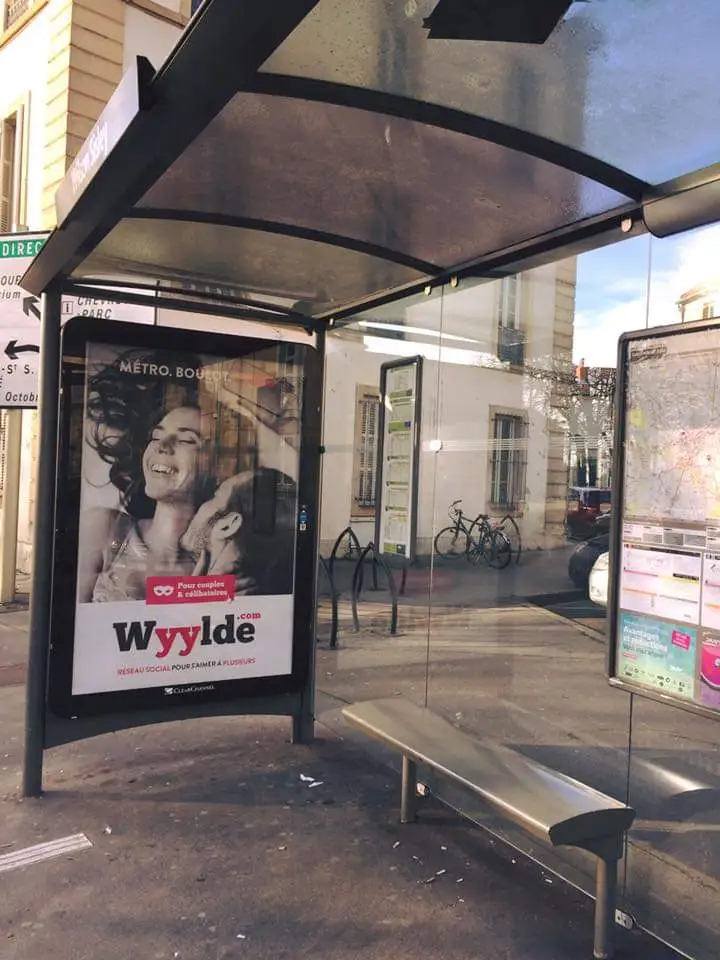 An aggressive promotion of their platform, which trivializes their messages on swinging and the hypersexualization of women. The public space and transport being open to all, the children were exposed and were able to discover this platform, its name and its objective. However, a simple click on their site, followed by a very easy registration (an email address is enough, no proof of identity is required) allows access to explicit and ultra violent pornographic content: images on profiles showing erect penises, penetrated women; groups to organize gang rapes in motorway service areas or racist- themed parties. We are far, very far, from the pseudo "party of pleasure" promised by the site on its advertisements, with smiles and candy pink color.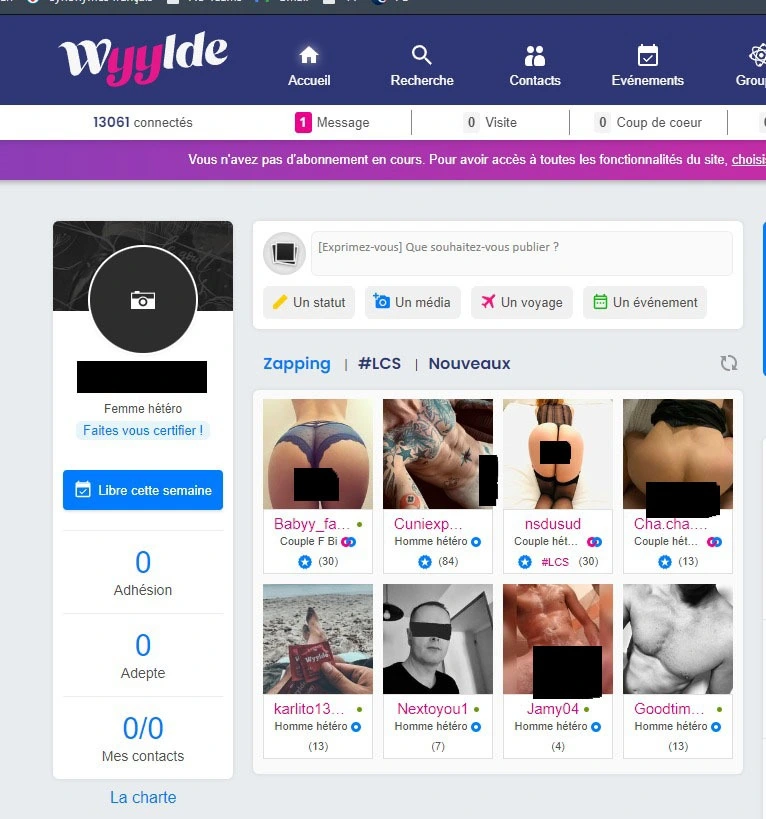 On social networks, Wyylde plays on several niches to increase its influence and reach an increasingly large audience.
It naturally ensures its publicity in its quasi-native environment, pornography. We thus discover that one of the women promoting this site via a podcast is an effigy of Jacquie and Michel (Anna Polina), their competitor. 
More recently, Wyylde has extended its ramifications into the world of sex accounts created by women, via paid partnerships. These accounts, which define themselves as educational, liberated, even feminist, are perceived by their subscribers – women and young girls, mainly – as protected spaces. Insidiously, Wyylde can thus benefit from positive publicity with them, thwart their mistrust and make themselves known, while continuing to build the myth of a sexually "uninhibited" platform.
It is in this way that Wyylde gradually made its appearance in certain liberal spheres claiming to be feminist or displaying a so-called "sex positive" discourse, but also in the circles of radical feminists. This is also how we heard about it. We would also like to offer our deepest apologies to the women and survivors that we may have indirectly influenced, by following and sharing accounts that we thought were safe. We should have been more vigilant. 
Because we say it and we will always say it again: the so-called "libertine" sites, like Wyylde, are traps for women and obvious gateways to porn-prostitution. There are men who invent a bisexual tendency in their wives to fulfill their fantasies. There are also men who force women and spouses there or who manipulate them into accepting practices that they deem a priori unacceptable.
Wyylde also does a lot of promotion around candaulism. Candaulism is the act of "OFFERING" one's partner to others. It is not only a reifying practice, but it is based on hypocrisy. Make no mistake about it: it is actually women who are generally offered, exchanged, treated like commodities.
Contrary to its official presentation, Wyylde is not just a simple dating site for "libertines". Like porn sites, profiles are sorted by skin color and weight. It can be navigated by means of categories, including of course BDSM, gang bang, hardcore… but also cam sex, with the broadcast of live videos of "exhibitionists", some of whom are underage – a copy of the camgirls porn sites.
Wyylde has nothing to envy to Jacquie et Michel.
It is very clear to us that the women remaining on this site are already very alienated from porn culture – and for some, are victims of prostitution.
Several testimonials relate the dangerousness of the site for women, especially for single women.
What men are looking for on Wyylde is no different, in practice, from what they are looking for in prostitution: a way to penetrate and submit when they want, how they want. The only difference is that on Wyylde, the man pays his subscription and the victim pays him too. Women looking for free relationships, men looking for hookers.
Full article on Wyylde by CAPP: READ HERE
Een reactie plaatsen